Granite Monument & Granite Memorial Sales
Childs' Monument Works sells granite monuments and cemetery memorials, sometimes called headstones or upright grave markers, provides sandblast cleaning and lettering of stone memorials and installs granite memorials and monuments. Our granite monument sales are available for both the wholesale and retail markets. Childs' Monument Works is a family owned business with years of granite industry experience, and supplies custom granite cemetery memorials designed to your specifications. These granite cemetery memorials are an everlasting tribute to your loved one, and we will try to make the selection as easy as possible. For more information and photos go to Granite Monuments.

Memorial Sandblasting, Memorial Cleaning & On-Site Lettering
Stone monuments, even though they last for generations, are susceptible to mold, fungus and unsightly hard water film. Have you discovered the memorial of a loved one that has become dirty and in need of cleaning or preservation? Over a period of time, stone memorials or headstones will accumulate a layer of deposits resulting from hard water. Mold or fungus can actually grow on a porous stone, and cause flaking or cracking. Depending upon what type of stone the memorial is made of, it could be in danger of cracking or becoming discolored.
Childs' Monument Works has the expertise with on-site sandblasting for cleaning, death dates, and lettering for existing monuments. We can clean, preserve and properly set any type of stone monument. Read more about our Granite Sandblasting Services.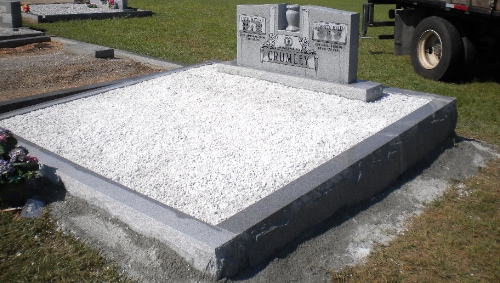 Granite Monument Setting & Installation
Granite memorial and monument installation, sometimes referred to as monument setting, must be done properly to insure the monument will not lean or sink into the ground over time. Most cemetery memorials or either one-piece stone flat markers, or 2-piece upright markers and require different installation methods.
We install Stone Memorials, Granite Monuments, Granite & Marble Cemetery Headstones, Mausoleums, Cemetery Benches & Markers, Civic Memorials & Veterans Memorials. Please call us at 1-877-717-6972. For more information, go to Granite Monument Installation.
Childs' Monument Works
1353 Lexington Hwy
Elberton, GA 30635
Phone Toll Free 1-877-717-6972
FAX 706-283-6994

E-mail childsmonumentworks@yahoo.com
Map & Diving Directions