Granite Mausoleums Sales & Installation
Granite Mausoleums are manufactured and installed by Childs' Monument Works. We are one of the few companies that can supply and install granite mausoleums throughout the eastern United States. Phone Toll Free 1-877-717-6972.
We have a beautiful line of Everlasting Mausoleums in several sizes and colors, and we also manufacture mausoleums from locally available gray granite. Childs' Monument Works offers many unique options including Bronze Doors and Stained Glass Windows. The structure, quality and integrity of our mausoleums are premium quality, and matching complimentary granite features such as patio tile, planters, benches, pedestals and vases are also available. Our experienced, professional staff will be pleased to assist you with a Private Estate Mausoleum with one to six crypts.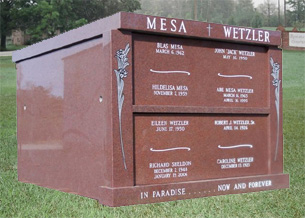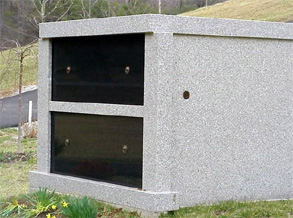 Childs' Monument Works, A Full Service Granite Company Provides
Mausoleums Sales & Installation with one to six crypts.
Standard and Custom Granite Mausolems
On Site Sandblast Stenciling of Existing Stone
Setting and installation granite Mausolems for dealers throughout the country
Cut to order custom granite Mausoleums
Cleaning of mausoleums in Georgia, South Carolina, North Florida, Tennessee, Alabama, and Mississippi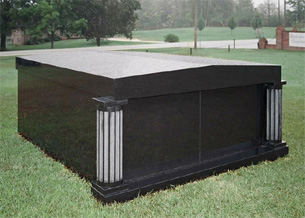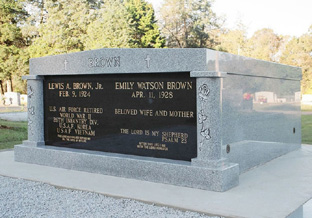 A mausoleum from Childs' Monument Works, Inc. is made of the finest granite by highly skilled craftsmen. They are available with 1 to 6 chambers in several designs. The personalized private estate mausoleum will be constructed to your exact specifications and assembled at the cemetery or estate garden of your choice. A personal mausoleum is a sound, sensible investment that provides the family a peaceful, maintenance-free resting place that will last for centuries to come.
Childs' Monument Works is a full service granite company. We specialize in supplying, installing and cleaning granite mausoleums, monuments and memorials. We provide granite monument installation throughout the Eastern United States. Retail and Wholesale Granite monuments and memorials are shipped to anywhere in the country.
Call 1-877-717-6972 or e-mail our Sales Department.
Childs' Monument Works
1353 Lexington Hwy
Elberton, GA 30635
Phone Toll Free 1-877-717-6972
FAX 706-283-6994

E-mail childsmonumentworks@yahoo.com
Map & Diving Directions